Our goal at Mega Granite & Marble is to bring you high-quality countertops that include natural stone, quartz, porcelain and more. We understand that searching for countertops in Atlanta, Georgia, and the surrounding metropolitan area, for your kitchen or bathroom can feel intimidating with the wide selection available. So, to help you through the process of finding the perfect countertop for your project, we've prepared an overview of some essential granite countertops information, which is one of the top choices on the market.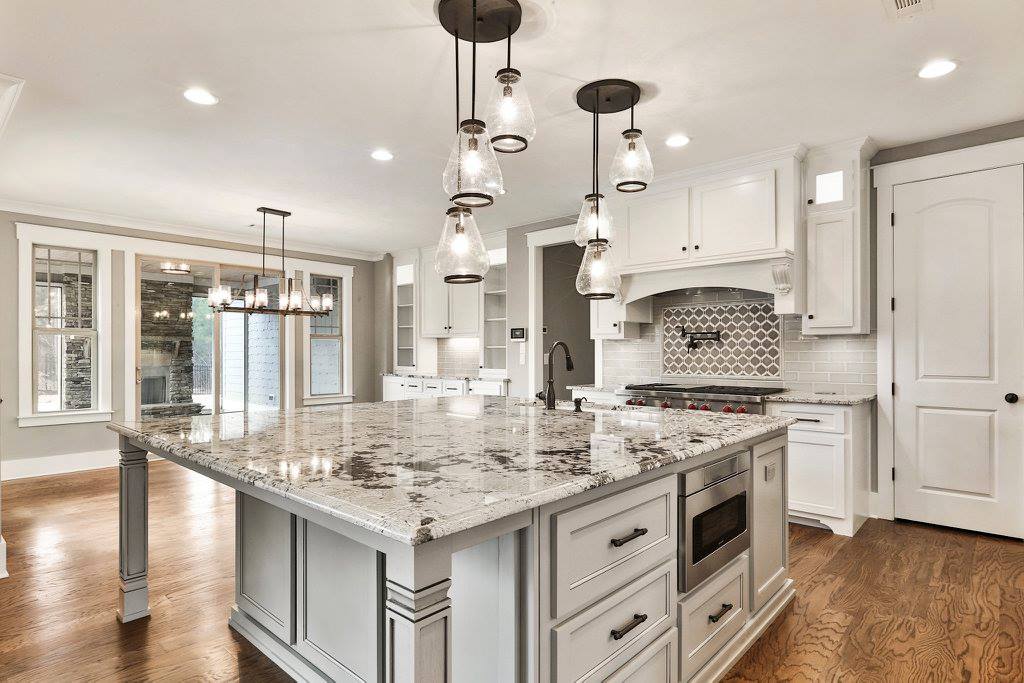 What Are The Characteristics of Granite Countertops?
Granite is widely known for its durability and resistance to scratches. When properly cared for, granite will not be affected by common sources of stains. Granite is a popular countertop material amongst homeowners in Georgia for the kitchen because it is heat-resistant, making it an ideal choice for around the range cooktops. Also making it preferential to installation in the kitchens or bathrooms is granite's resistance to bacteria. Although nothing is completely impervious to bacteria growth, granite countertops are so easy to clean that, if bacteria is harbored on the countertop surface, it can be easily wiped away with warm soap and water.
Granite is made up of the minerals, quartz and feldspar. Granite is an igneous rock that formed millions of years ago, hardening from molten slag. The formation of granite occurs under intense heat and pressure beneath the earth. As a result, granite becomes strong, hard and dense. Granite falls into the natural stone category along with marble and quartzite. It has been used for years in numerous ways. Granite is a timeless material with great characteristics, one being strength, which makes it a top choice for a kitchen or bathroom countertop surface in Atlanta, GA. It is a perfect option for high traffic areas such as the kitchen countertops or a fireplace surround for a unique design feature.
Where Do Granite Countertops Come From?
Granite countertops are sourced from places around the world like Italy, India, and Brazil. Granite is quarried from the earth in large blocks which are then sliced into slabs to make kitchen and bathroom countertops. Some granite is only available from specific locations and the cost of granite may vary from granite dealer to granite dealer near you. If you are looking for granite countertop installation services in Georgia, stop by our showroom in Newnan, GA located right outside of Atlanta.
What Color Do Granite Countertops Come In?
Granite slabs come in various colors. This can be attributed to the minerals that become trapped inside granite during the cooling of the molten rock. Granite slabs can feature blues, grays, greens, yellows, whites and blacks so you are sure to find the color that fits the vision of your project. The color of granite will vary from slab to slab and that's why it is important to view your stone of choice in person so you can see the variation in color and shading. We encourage you to make an appointment at our showroom in Newnan right outside Atlanta, Georgia to view our granite selection in person.
How Much do Granite Countertops Cost?
The cost of granite countertops can vary depending on where the stone comes from and the size of your kitchen or bathroom project. A few other factors that affect the price of a granite slab are things such as the thickness of the stone, the design of the countertop, the difficulty level of the project and the size of the countertops. Many people are willing to pay more for granite countertops because they offer a great return on investment for their home in Georgia. Unique, high-quality kitchen and bathroom granite counters improve the look of the whole room and stay gorgeous for years.
All things considered, granite is a great investment for any home if you are looking to renovate your house, kitchen or bathroom. If you are looking for granite countertops in Georgia or have additional questions, contact our team here at Mega Granite to help you make the best selection! We would happy to schedule an appointment for you to visit our showroom in Newnan, Georgia or Hartselle, Alabama.